As an experienced entrepreneur, you might be familiar with keeping your company's books in order. Needless to say, you can experience this to be more time-consuming and frustrating, in case you are running an overseas company.
Bolder Launch can act as your local bookkeeper or administrator, keeping your books in order according to local regulations, and filing the appropriate tax returns. Furthermore Bolder Launch provides you direct access to experts in the different forms of taxation, such as VAT, Corporate Tax, European & International Taxation, Tax Rulings, Customs, Wage Tax, etc.
Bolder Launch unburdens your company of its administrative requirements, whether you are a startup or a well established multinational. Bolder Launch can also assist in audit requirements, and accounting statements, thanks to a close cooperation with Dutch accounting partners.
Depending on your company structure we work closely with your inhouse administrative staff or we can save you the troubles of employing in house administrative staff altogether.
Our Accounting Services Guide
Service To
Apply for Dutch VAT number
Use our simplified procedure to apply for a Dutch VAT number for a fixed fee. Any business can apply for a VAT number, read more about how to deal with VAT requirements in our Launch Guide.
Service To
VAT Administration in The Netherlands
Bolder Launch can provide accounting and tax services once your Dutch company is incorporated. Once your Dutch business has activated its VAT number, we can submit your VAT returns on a quarterly (or monthly) basis.
Service To
Annual Reporting for your Dutch business
Most businesses in the Netherlands are obliged to file their annual accounts to the Dutch Chamber of Commerce (KVK). These include a Dutch BV, a Dutch NV and associations with businesses of a certain size, amongst others.
Service To
Payroll a staff member in the Netherlands
Payrolling a staff member in the Netherlands is simple, with our payrolling service. At a fixed fee per year, per employee, Bolder Launch can handle all wage tax requirements. We can onboard your staff members within a matter of days!
What we'll do
Bolder Launch professional bookkeeping experts will ensure that all your records are comprehensive and accurate. We customize our services specifically to your needs so you can be confident that all your records are in order.
We can assist you to prepare your annual financial report, based on the Dutch accounting standards. Based on the quarterly or annual reporting, our tax team will handle the filing of all VAT and Corporate Tax returns.
Our expertise with non-residents, and global entrepreneurs, have allowed us to develop efficient protocols and translations, so you have a full understanding of the progress, while getting quick results (such as communicating international group transactions with tax authorities to obtain a VAT number, getting a tax ruling, etc.)
After the formation of a Dutch company, you should typically consider:
(If relevant) Application of a VAT/EORI number
(If relevant) Quarterly filing of VAT/ICP returns
Annual Corporate Tax Filing requirement
Preparation Annual Report
(If relevant) Application Wage Tax number and monthly filing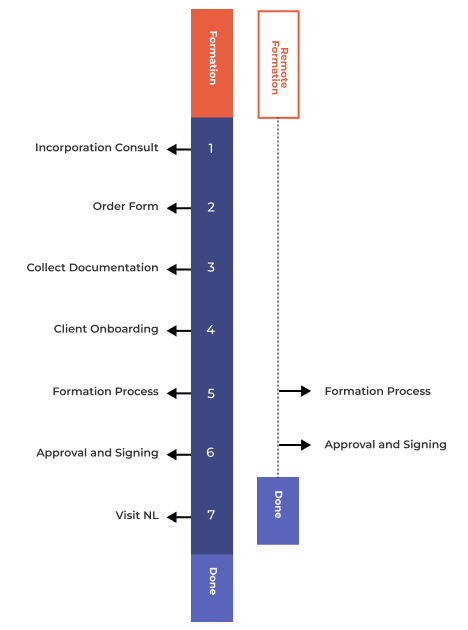 An affordable solution
Our Fee Schedule shows you fixed (monthly or annual) fees, based on standard situations, whatever the size of your company. When entering a new market you might not expect a high volume of transactions, or turnover. Our Fees provide you a great insight in such situation, on the type of expenses you can expect. In case your company is more evolved, or is part of a complex group structure, and/or is performing complex transactions, we advise you to contact our team to discuss a personalised quote.
Bolder Launch provides inhouse bookkeeping services, allowing us to be dramatically more affordable than using an accountants firm, while maintaining the same level of professional quality.
For a full overview of our bookkeeping services, including fees, have a look at our Fee Schedule.
Advantages of Bolder Launch – Saving time.
Proper bookkeeping is not limited to blindly processing invoices and statements. Our aim is to save you taxes, frustration, and your most precious commodity, which is your time. Bolder Launch bends it's protocols, services and reporting tools based on your needs, rather then bending your habits for the purpose of a cemented accounting software.
Global entrepreneurship is in our DNA. Our expertise with more than 1.000 company formations, and tax systems all around the world, makes Bolder Launch's insight valuable in ways that a typical bookkeeper is not able to match.
And it's not just about the time. Keeping a comprehensive record and preparing accurate financial statements can be quite a technical skill, and even the tiniest mistake can prove to be costly. Rest assured that by using our bookkeeping service, all of your paperwork will be filed correctly.
What we need from you
In case your company has already worked with a bookkeeper before, we can connect with them to ensure a smooth transition.
Our team can share a questionnaire that will request information on the background of your company, to determine the exact bookkeeping requirements and fees.