Almost half of the entrepreneurs Bolder Launch works with are considering establishing their company in Rotterdam since they already conduct business with the city in some form. In this article, we'll explain why Rotterdam is a good place to start a business and how to do so in the Netherlands, specifically in Rotterdam.
For Dutch standards, Rotterdam is a large metropolis that continues to innovate itself at a rapid pace.
The 'Rotterdammers' are recognised for their positive attitude. Rotterdam is a vibrant, always-on-the-go city with a distinct personality, and it exudes a distinct metropolitan vibe. With over 170 ethnicities living side by side and together, the city is tough, energetic, and diverse. Among the global entrepreneurs we work with, Rotterdam is a very popular city in the Netherlands.
Bolder Launch has been based in Rotterdam since 2018 when we opened an office at the Cambridge Innovation Center (CIC) following a successful event with the Venture Cafe, which is also located at CIC. Bolder Launch has led multiple trade missions to Rotterdam since then, as well as facilitating tours to Rotterdam for foreign investors looking to learn more about the sector.
So far, Bolder Launch has founded over 20 firms in Rotterdam, and the number is continuously increasing.
In this article, we'll go through how to start a business in Rotterdam and how to make it a success.
About the Rotterdam-based Bolder Launch Business Group:
• Established in 2007
• Over 1000 incorporations in total with an average of 40 per month (covering 1000 leads per month)
• Multinational Staff in Breda and Rotterdam
• Partnerships worldwide
• Founded 'Incubatorsforimmigrants.com' to support refugees to start their own company
• Free Launch Guide
• Developing state-of-the-art Platform and App
Why should you start a company in Rotterdam?
Rotterdam is well-known in certain industries, including:
• Creative Industry
• Shipping & Logistics
• Oil & Commodities
• Water & Marine
• Agri & Food
• Innovation
Rotterdam is the maritime capital of Europe. One of the most competitive and successful maritime and offshore clusters in the world can be found in Rotterdam's marine environment. Rotterdam is a suitable site for businesses because it has Europe's largest port, as well as the presence of significant marine service providers, traders, and insurers.
The port and maritime sector in and around Rotterdam generates roughly €20 billion in yearly added value. In the port, logistics, commercial services, government, education, and knowledge institutes, almost 175,000 experienced professional work.
With around 85 billion euros in exports, the Netherlands is the world's second-largest exporter of agricultural and food products after the United States. Rotterdam has an international important position in the Agri & Food sector, thanks in part to its strategic location on the Maas, the port, logistical knowledge, and specialist services.
Large and small food producers, food processors, and specialist trade and logistics enterprises are all concentrated in the Rotterdam region and all major commodity traders are located here.
Rotterdam is known around the world for its raw charm and zeal for innovation. As a result, there is as much information as possible here. Rotterdam is also the place where the old and new economies collide organically, resulting in organic crossovers and breakthroughs.
The Rotterdam region is home to internationally renowned knowledge institutions such as Erasmus University Rotterdam, Erasmus Medical Center, Delft University of Technology, and Rotterdam University of Applied Sciences, as well as start-up and innovation hotspots such as the Cambridge Innovation Centre and its sister organization Venture Café, RDM Rotterdam, Rotterdam Science Tower, Erasmus Centre for Entrepreneurship, YES!Delft, and many others.
Dutch company formation services in Rotterdam
If you want to create a business in Rotterdam, Bolder Launch can help you from start to finish.
Bolder Launch was one of the first incorporation agents in the Netherlands to accept whole responsibility for a market entry in 2007. We have a large network, and are always improving our services. As a result, we look forward to assisting your organisation in the Netherlands.
Our basic Company Incorporation Package consists of two elements:
This means you need to consider a budget of 3.000 EUR for the first year. However, we offer a wide range of services, starting with a simple branch registration for 750 EUR. We may assist with VAT administration and/or fiscal year closing once the firm has been incorporated (by drafting the Financial Statements, filing of the income tax return, etc.)
Bolder Launch's major area of competence is Company Formation packages, which comprise the following corporate assistance:
If you'd like to learn more about the company creation services we offer in Rotterdam, you can contact our Business Officers.
Procedures for forming a business in Rotterdam; Get a Free Consultation!
Bolder Launch makes it easy to start a business in Rotterdam, regardless of the type of Dutch business you want to start. Our company officers are ready for a free consultation to explore the distinctions between legal entities or to explain the variations in a Dutch branch registration.
When forming a corporation in Rotterdam, the following legal entities should be considered:
If you are a sole proprietor, freelancer, or startup, you should consider forming a Sole Proprietorship or Sole Trader.
Private Limited Company (BV)
This is the company structure that most foreign enterprises use when forming a company in Holland. A minimum share capital of 0.01 EUR is the most important criterion for founding this type of corporation.
Public Limited Company (NV)
If you want to start a company in the Netherlands with the goal of going "public," you should form a Public Limited Company.
General Partnership (VOF)
If two or more partners want to do business in the Netherlands, a VOF could be a good option. There are no criteria for a local partner/director or minimum share capital, and partners can be legal entities or people.
This type of partnership also requires two or more partners who are categorized as managing partners and silent partners.
This type of business structure is made up of two or more partners who are in the same profession but are not running a firm. It's the perfect business structure for lawyers, accountants, architects, and other professionals.
If you do not intend to share earnings with your members, you can register your company as an association in the Netherlands.
If you already have a firm in another country, a branch registration may be the best option for forming a company in the Netherlands. In contrast to founding a Limited Private Company as a subsidiary, registering your firm as a branch in Holland does not result in your local branch being treated as a separate legal entity under Dutch corporate law.
Foundation
For NGOs and charities, establishing a foundation in the Netherlands is the best business structure. A Dutch Foundation is a self-owned legal body with limited liability, similar to a Private Limited Company (BV), but without shareholders or shares.
The method for forming a business in Rotterdam is simple, and it does not require a personal visit from the director or shareholders.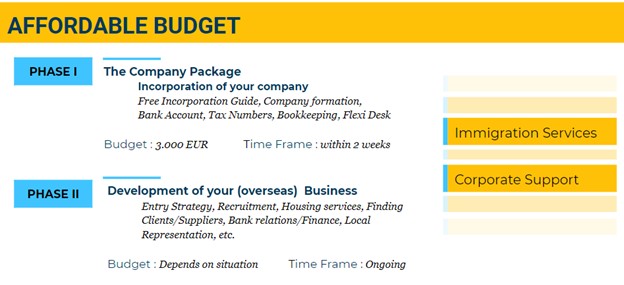 In the Netherlands, it takes 3 to 5 working days to form a business; however, this is only when we have the notarized power of attorney (we provide this document to you). Incorporation takes between 1 to 3 weeks on average.
We provide business creation for € 1.000 (no hidden or additional fees), which covers the following:
• Power of Attorney
• Translation of the Deed
• Registration fees at the Chamber of Commerce (KvK)
• Dutch Notary fees
• Guidance through the entire process
• Registration of the Company Name and its activities
The following are some of the services we provide as Company Officers:
• Assistance in requesting a bank account (can only be requested after establishing a BV)
• Requesting a VAT number (can take 2 – 5 weeks depending on Tax Authorities)
• Requesting EORI-number (for import/export)
• Extra local substance (useful for VAT registration)
• Translation services of Dutch letters
• Assistance when abroad
• Ensuring that all company paperwork is sent on time
• One sole contact at Intercompany Solutions
The following are some of the accounting services we provide:
• Quarterly TAX and Intrastat filings
• Annual profit TAX filing
• Annual report
• Filing at the Dutch Chamber of Commerce.
• Assistance with the tax authorities in case of questions regarding the VAT application.
• Application for an article 23 permit.
The documents that we require from each shareholder are as follows:
• Color copy passport + (selfie) photo holding passport open
• Proof of address no older than 2 months (bank statement or utility bill)
We also require the following documents:
• Completed Bolder Launch order form checklist
• Rental agreement with registered address in the Netherlands
A visit to a Dutch bank is one of the final steps, although Dutch banks are now focusing on enterprises that perform local activities. It will be more difficult for foreign corporations without local substance, and an offshore bank should be considered as a backup strategy (no local bank account is required by law).
We would like to advise you that to establish a banking relationship, you must have local substance and a clear economic link to the Netherlands. Consider becoming a Dutch resident (or appointing a local director/employee) and a Dutch firm employee. We may help you with this, and it would then be easier for you to open a bank account. Because you are a non-EU national, you will need to apply for a work permit, which we can help you with if you meet the requirements.
Please contact us if you have any questions; our incorporation team will be pleased to help. You can make an appointment here.
Entering the market in Rotterdam
Bolder Launch has hosted Trade Missions to Rotterdam before, and we can also arrange pilots to help you expand your business and test the market. Bolder Launch may also make use of its network to help your pilot succeed. We collaborate with:
• Rewin (government investment agency in South Netherlands)
• Rotterdam Partners (similar in the Rotterdam region)
• Netherlands Foreign Investment Agency
• Industry Representatives
• Business Development agencies
• Marketing Agencies
You may also count on the following free support if we can incorporate Rewin, Rotterdam Partners, or another government agency in this project:
• assistance with legal and tax issues
• scan of subsidy schemes
• financing advice and mediation
• information about commercial real estate (existing or new building)
• guide in negotiations and contracts
• guide in construction and environmental procedures
• performing benchmarks, e.g. Breda-Antwerp or Breda-Rotterdam
• quality analysis (distances, labour, infrastructure, training)
• enable additional services
In a nutshell, Bolder Launch can help you develop a strategy and/or execute it. If you're interested in our assistance, we can work up a price plan that meets your goals.
Obtaining residency in Rotterdam
You may choose to stay in the Netherlands for longer periods of time in order to effectively manage your new business in Rotterdam.
The regular travel visa may not be appropriate for your needs, but Bolder Launch may help you secure multi-entry Schengen visas that can be readily extended. However, travel visas include a limit, allowing you to stay in the Netherlands for no more than 90 days out of 180 days.
Bolder Group offers in-house residency services, and we may help you apply for a Rotterdam residency permit or arrange work permits for your employees.
Accountants in Rotterdam
Bolder Launch is a Rotterdam-based accounting firm that specializes in serving international entrepreneurs and small businesses.
Once the Dutch business is established, our corporate services do not end. To preserve your firm in good standing, we can supply a variety of continuous company officer or accounting services.
In Rotterdam, we provide the following accounting services:
The following Dutch accounting services are required by law in the Netherlands, and most of our clients employ us for them:
VAT Admission (Monthly) €125 (charged every 2 quarters in advance)
Corporate Tax Filing (Yearly) From €750
Preparation of the Financial Statement (Yearly) >€750
The VAT admission is invoiced as a retainer every 6 months. We ask for a €500 compliance fee for setting up the administration.
Dutch Startups and Residency
As previously stated, Rotterdam is an excellent location for innovative entrepreneurs. Although obtaining residency in the Netherlands is possible, and several immigration programs are available, we believe it will be extremely difficult to obtain residency as an entrepreneur without strong economic ties to Rotterdam, based on the information we typically receive on the leads'/entrepreneurs' situation.
A self-employed visa would NOT be a viable option unless you are planning to appoint at least 3 staff members in the first 18 months and expect a healthy profit.
A business plan is required to be qualified for any startup visa or startup incentives (or even to check your banking possibilities in the Netherlands).
The Fact Sheet provides an overview of the Dutch tax obligations.
Aside from the 'innovation' aspect, the start-up and entrepreneur visa processes are similar; it's still about the ability to scale a business (and ensure continuity).
Even if your firm is well-established, it may make sense to concentrate on obtaining an employee visa permission. Because even a CEO can be classified as an 'employee' (even if they own some stock in the company, but there are limitations).
In general, obtaining a work permit for employees in the Netherlands is easier. However, there are a variety of solutions available. Registering a subsidiary of your existing firm is the simplest way to form a company and gain residency in the Netherlands. Then you can easily transfer to the Dutch group firm as a manager or specialist (the Intra Company Transfer permission allows for this, but a European Blue Card can also work if the lead has a master's degree). You should budget for a monthly wage of at least 4.500 EUR.
If you are interested in forming a company in Rotterdam, please let us know and don't hesitate to contact our Incorporation Team to discuss the details. You can make an appointment here.